Melaleuca The Wellness Company!
Wednesday, April 4, 2012
http://www.melaleuca.com/ProductStore/ProductStore.aspx
Join Melaleuca and help change not only your life but others! Melaleuca's products are natural and healthy, and they are safe for children! We also say if you do not like the products you will get a 100% refund, and you can cancell your membership at any time! Melaleuca offers you the chance to change your home, while earning a monthly paycheck! We provide you with products such as
Bath & Body
The Gold Bar®
The Melaleuca Platinum Bar™
Exfoliating Body Bar
Melaleuca®Herbal Shampoo (8 fl. 0z./237 mL)
Clear Defense™Hand Gel (2.4 fl. oz./80 mL)
Mint Antibacterial Liquid Soap with pump
Body Satin™Body Wash
Body Satin™Antiperspirant & Deodorant
Body Satin™Lotion
Body Satin™Body Polish
Body Satin™Hand Creme (2 fl. oz./59 mL)
Whitening Tooth Polish
Fresh Mint Tooth Polish
Breath-Away™Mouth Rinse--Fresh Mint
Classic
Dental
Floss--Fresh Mint
Cool Shot™Sugarless Gum--Peppermint
Cool Shot™Breath Spray--Fresh Mint
Nature's Medicine Cabinet
T36-C5™ brand Melaleuca Oil (0.5 fl. oz./15 mL)
MelaGel® (tube)
Pain-A-Trate™ Cream
Renew™ Intensive Skin Therapy Lotion (8 fl. oz./237 mL)
CounterAct® Cough Syrup
CounterAct® Cough Drops--Honey Lemon
CounterAct® Pain
Calmicid® Antacid Plus
Sun Shades™ Piña Colada Lip Balm
Sun Shades™ Vanilla Bean Lip Balm
Vitality for Life
Vitality 6™ (choose Women's, Men's or 50+)
Access™ Bar -- Chocolate Caramel Kruncher (10-pack)
Attain™ Sweet & Salty Nut Bar (6-pack)
FiberWise™ Packets
FiberWise™ Cereal -- Cinnamon Clusters
Simply Fit™ Baked Crackers--Harvest Grain
Sustain Sport® -- Orange Splash Packets
Sei Bella
Timeless Age-Defying Serum
Sei Bella Luxury Moisture Shampoo
Sei Bella Luxury Moisture Conditioner
Sei Bella Luxury Leave-In Detangling & Smoothing Spray
Sei Bella Classic Hold Finishing Spray
Sei Bella Defining Gel
EcoSense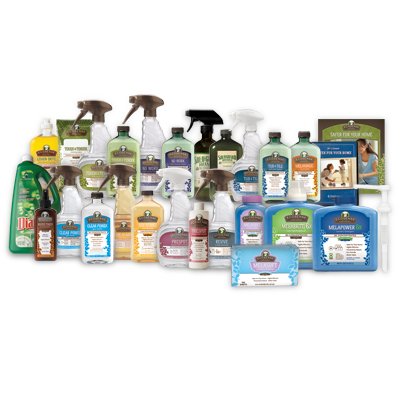 MelaPower® 6x Laundry Detergent Fresh Scent (48 loads)
MelaBrite™ 6x Color-Safe Brightener (48 loads)
MelaSoft® Spring Breeze (48 loads)
PreSpot™ 4x Laundry Stain Remover
Choice of Diamond Brite™ Dishwasher Detergent or Lemon Brite™ Dishwashing Liquid
Sol-U-Mel® Three-in-One Cleaner (16 fl. oz./473 mL)
Tough & Tender™ Wipes
Tub & Tile™ Bathroom Cleaner
Clear Power™ Concentrated Glass Cleaner
Sol-U-Guard Botanical® 2x Concentrate
Pumps and Bottles
Two EcoSense™ Drain-Back Caps
PreSpot™ Mixing Spray Bottle
Sol-U-Mel® Mixing Spray Bottle
Tub & Tile™ Mixing Spray Bottle
Clear Power™ Mixing Spray Bottle
Sol-U-Guard Botanical® Spray Bottle
Income-Starting your own Business!
Become a member now for just $29!
Email me at v-ormsby@hotmail.com, to hear a presentation, and start working-shopping asap!